For the latest episode of our poddy, we have Acidulant – the acid genius shares his latest news and views with us ahead of releases on Balkan, R&S and following his recent release on Gated Recordings under his Collateral Intelligence guise.
Hey great to have you on site for a mix and a chat, can you tell us a bit about your background? Where are you from and how you got into making music?
Hello There 🙂 My name is Neil Hales and I come from the tiny island of Malta. I make electronic music under the names Acidulant & Collateral Intelligence, I also 1/2 RAIM, a collaboration with long time friend Sound Synthesis. My passion for music started at a very young age, I was around 13 years old when I used to spend weekends at my uncle's place digging records, listening to the likes of Kraftwerk and Egyptian lover and more cool stuff.
Were you always into the more Acid side of things? or did you start making something else?
Practically, Yes, i always wanted to play acid, was not sure about the direction but I was 303% sure I wanted my sounds to revolve around the acid sound, I can't really express the feeling when you have absolutely no clue about an album called 'Sheet One' and then one day you pull this record out and play it for the very first time. This was my life changing moment, It felt like finally my world of electronic music fell into place.
What is your process are you mostly in the box or mostly out?
I'm all over the place, and since music is not my full time job I make music at every opportunity I have, it could be something I made solely on a laptop, I have others I made only with hardware and others that were made with a bit of both. If i had to say what's my ideal setup, i'd say a bit of both, keeping the balance between using hardware and software can eventually lead to great new sounds.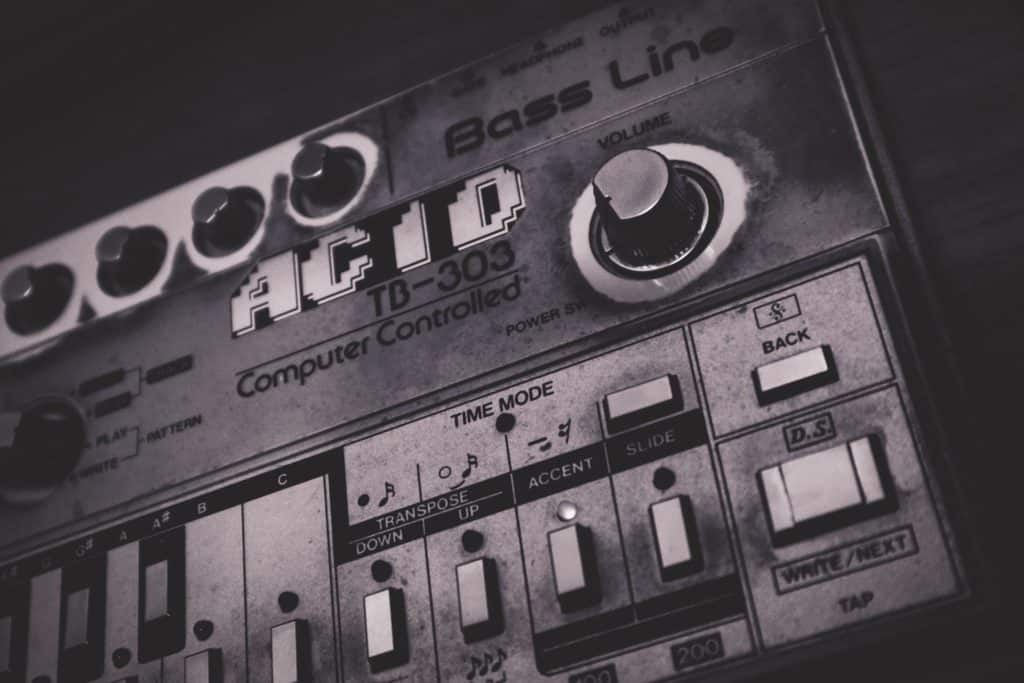 Do you have any go to gear or plugins that you use all the time?
Of course I use the TB-303s most of the time, if I'm away from my studio then the Audio Realism ABL3 does a very good Acid job for me. Then for specific music I use specific gear, for example I love to use my modular synths more on Techno and Electro tracks, while on the other hand I use more the Korg Radias on more ambient and Acid House tracks.
There are a lot of great (more affordable), hardware replica's of the 303 and some great drum machines around nowadays. How do you view the state of hardware production compared to how it used to be?
Most of the (clone) hardware being made today is often of less unique quality but then prices have become much more affordable. For me this balance work perfectly. When it comes to TB-303 clones nothing comes as close as an RE-303, its basically a modern manufacture of the real thing, If I didn't have two original 303s, an RE-303 would have definitely become my second Acid box.
What new equipment do you rate?
With new competition in the synth market  some synth have become really cheap, I mean how can you go wrong with an analog 808 clone for 300euros ? To sum it all up, I'm not a synth engineer, my perspective on synths is that if it sounds good, i'll definitely squeeze something out of it. If i had to then choose the most rated equipment for me comes from Roland, there aren't too many companies in the synth market that have contributed to so many new genres of electronic music.
Tell us a little bit about your studio, monitors, important gear, computer etc?
My studio is very simple, first of all i have no acoustic treatment, my room is basically filled with ton a lot of boxes, records and collectibles that sort of act like sound treatment, to be exact most of the furniture in my studio is coming from my old bedroom. I'm moving  to a new studio soon so hopefully this time i will take this a bit more seriously 🙂 Monitors I currently use and really like are the very affordable KRK's, that said i'll be upgrading to ADAM audio in the coming months. My setup is basically based on ableton Live being a DAW mixer for all my gear. My Tascam 16input soundcard is fundamental, with this, i'm able to record 16pieces of hardware running at the same time on different channels.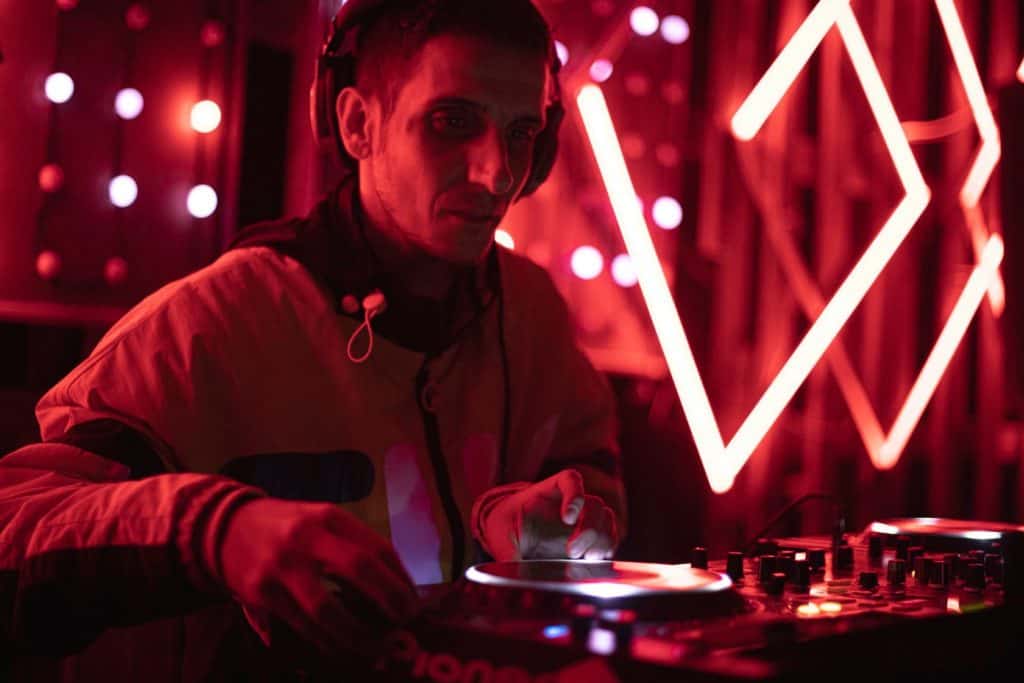 What is at the core of a good Acid Record for you?
A core of a good Acid record has for sure got to be a good damn Acid Bassline or Acid Lead. For me a great acid record has to have it's Acid sounds as the main attraction of the track, personally I like the raw stuff, Acid, Drums, Vocals and some Sound Effects.
Collateral ‌Intelligence is a fresh departure in sound for you, what is the idea behind this record?
Collateral intelligence is a project that mainly revolves around cinematic electronic music.
The idea behind each piece of music that i make for this project is to imagine a story and try and transform it into music. I use also a lot more sound design and field recordings on this project, this helps me shape the character of the tracks even more.
How have you seen your own sound evolve over the time you have been producing?
Yes for sure i have seen my sound evolve through time, both technically and also creatively, the day in day out practice in the studio definitely paid off in the long run, especially considering the fact that I have never been to any music school or had any form of music theory lessons.
If there was one bit of advice you could have shared with your young self when it comes to music production, what would that be?
The best advice I would give to myself is that whatever you do, make sure you are doing something that makes you happy and that makes you feel better. If you are not in love with what you are doing, then you will not see your full potential. Make music you love.
Do you have a favourite production of your own from your whole catalog? and why?
Personally I think my most favourite productions are yet to be released in particular the singles being released on Balkan Vinyl and R&S Records, that said, each and every track I made represents a unique moment in my life, therefore each track is a favourite.
Can you clue us into any upcoming / new producers you love that we might not have heard of?
There are a lot of artists that I like, but someone you might not know about is Mutex. I'd highly suggest you look for his releases on ARTS, Fundamental Records and Wirebox. A very talented producer that also inspires me a lot.
What's next for you?
There's quite a lot in the pipeline, especially with all the records being delayed from late last year. There are singles on Balkan vinyl and R&S Records, there's a split EP with one of my favourite Acid producers coming up on Acid Avengers, There are also a few other releases to be released on other labels which you can follow in the course of this year. Apart from these, I'm finally also starting my own vinyl label "LAZER Records'', there is already a series of releases lined up and the first release will feature tracks from Hardfloor, Mark Archer, Mutex, Elisa Bee and Acidulant. Can't wait to actually get going with the label, it's super rewarding to be able to hunt for music and new artists and then showcase them on my label.
Follow Acidulant – SOUNDCLOUD | FACEBOOK | BANDCAMP