Hi Neil, Can't tell you how much of a pleasure it is to have you in with us on Studio Talk. Anyone with a back catalogue of music like yours ought to be proud as punch (and that's not even including your work under the guise 'Bent'). Good to have you on No Dough Music, let's get cracking – For those who don't know , tell us how you came about getting involved in the music business in the first place? Take us back to where it all started for you.
My first job when I was 16 was in a rehearsal studio here on Nottingham, setting up mics and PAs for bands. There was a recording studio there too, I became friends with the studio engineer Damian, and when he left to work at Square Centre Studios up the road, we kept in touch and I used to go and see him and play him stuff I'd been doing with my mates at home. DIY were based in the same building and he became their house engineer, so eventually I blagged some studio time and they liked what they heard.. that was in 1993, so was 19.
Listening to records you released back in the 90's on labels like Strictly 4 Groover, and Classic there seems to be a real mixed bag of influences in there. Were these differences in style a natural progression for you as a producer or was it your plan all along to play around with styles? Is this when using different aliases came into play a bit?
To be honest I've never really thought about what I'm doing too much (maybe if I did I'd be a bit more secure financially), I just kinda go with the flow and what mood I'm in tends to dictate how the music or track will sound. I've always listened to a broad range of music, so I find it interesting to see how a track will come out if I've been listening to Black Metal all day. I'm not very good with technical terms either, which in a way helps me as I don't get too bogged down in the science of it all, it's whatever feels good I guess.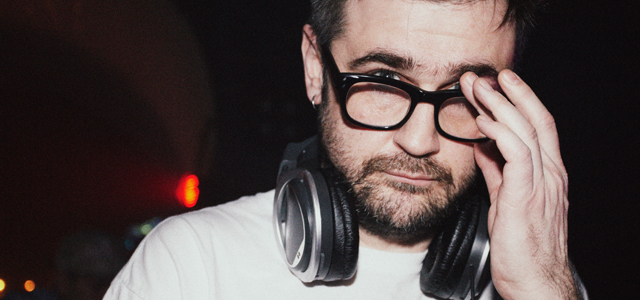 After a hand full of solo releases you then became good pals with Simon Mills, which lead on to form the collaboration we all know so well – Bent. How did from producing alone to with someone work out at first? Between the two of your was one more 'the engineer' and the other 'the ideas man', or was the collaboration an equal balance of studio efforts? Did it just gel right from the off?
Well we met at a time when we were both a little disillusioned with our situations, musically speaking. We both made each other laugh, (well, he makes me laugh anyway) so we started off making music together just trying to out-do each other with what ridiculous sample or melody we could sling in there next, it was such a laugh. And I honestly don't think at that point we thought it would be as successful as it was, which made our approach more free and playful, which is one of the reasons people picked up on it, I think.
The 'Bent' sound across all 5 albums that you guys wrote had a predominantly more down tempo vibe. Was the decision to part based on a desire to make more club tracks again? Relight the old flame so to speak?
I think we both needed a break from it, and following that other factors came into it which meant it wouldn't be as easy as before to work together; Simon moved to Ireland and I to London.. also whilst in London my alcoholism spiraled out of control, so there was no way I could work at all anyway. But It wasn't long after I'd sorted myself out in late 2012 that I kept getting emails from people wanting license old tracks of mine, 90s house had become popular again whilst I wasn't looking, and my old stuff was in demand. I couldn't believe it to be honest, I'd almost forgotten about that time of my life and never thought about seriously doing house music again. But, here we are.
How would you compare the way you work in the studio now, compared to say 10-15yrs ago. Advances in technology obviously play a large part in anything these days, but has the core nuts and bolts of your producing remained firmly in place?
Well it goes without saying that the technology has moved on since I first started making house music, but I guess I still know what sound and groove I like. I've learned a little bit about arranging tracks from my time in Bent, but other than that it doesn't feel any different to 20 years ago.
So let's get stuck into the sort of gear that you're using in the studio. Are there pieces of kit that played a part in your early productions still used to this day? We can't get enough of analogue sound here at NDM, what can't you live without in the studio?
Well, I hate to disappoint you, but even though I have a few bits of analogue gear, I find myself producing and mixing pretty much all in the box at the moment. It suits me better I think, because I work pretty fast. Having it all in one, portable place makes my life a bit easier and I can get ideas together quicker. Gear wise though, I don't have as much as I use to. Simon and I spent most of our Bent money on vintage synths, if I gave you a list you, would shit your pants at what we had! But these days I have just a few bits; 101, 303 and lots of Eurorack modules, Analogue Systems mainly.
So come on, spill the beans for everyone. Tell us what vintage gear you were using, and more to the point what happened to them after Bent split? 
OK, here's a list of what I can remember: 3 x SH101 (grey, blue & red, the last two are both signed by Orbital in UV pen, we supported them a few times, I've got the red one, Simon has the blue one)
EMS Synthi AKS, EMS VCS3 with DK1 keyboard, OSCar, Prophet 10, ARP Odyssey mk.1, PPG Wave 2.3 and 2.2, MiniMoog, Moog Source, Moog Liberation, Roland TR-808, TR-707, CR-78, TB-303, Roland 202 string synth, Emulator II, Elka Synthex, Oberheim OB-8, Yamaha DX-7, SY-77, Roland D-50, Korg VC-10 vocoder, Roland Space Echo, Chorus Echo, Roland SH-09, Crumar Bit One, Wardolf Pulse, There maybe a few more, but I think that's the main bulk! The studio became a bit like a synth museum at one point, very nice to walk into every morning (well, afternoon mainly). When we both moved we split the gear up as equally as we could decide, but a lot of the rarer stuff was eventually sold, as to be honest it didn't get used as much anymore and we were getting good offers from other collectors. We still have a fair bit between us though, most of it is at Simon's studio in Ireland.
Tell us your favorite Eurorack Modules? Give us a feel for your system?
The main unit is an Analogue Systems prototype system that was given to the Square Centre by Bob Williams in the early 90's, which we bought from them in about 2001. It's a pretty basic set up, as after all it was a prototype, but you can get some mean sounds out of it, plus it's CV/Gate, so I can link it up with my old Roland gear. It sounds nice when the 303 is triggering it off, as you get that lovely bend and accentuation. We called that system Wendy, and now she has a little sister called Delia, she's about half the size and is made up of about half Analogue Systems modules and the other half is various other makes. I have a really gnarly Doepfer Wasp filter, plus the Pittsburgh Dual low LFO is pretty mean. I also patch in ElectroHarmonix and Boss pedals to really fuck things up, mainly delays (Memory Man, Digital Delay respectively), but I have three phaser pedals too, a EH Small Stone & Stereophase and Boss Phase Shifter. To be honest though, all this gear is in my "studio 2" and I rarely use any of my experiments in there as sound sources for my house tracks. I'm a big fan of electronic/noise/experimental stuff, and I use this equipment for my forays into this area under the name Flesho.
If you're predominately creating in the box, are there any effects plugins that play a large part in your production?
There's a few plug-ins that are part of my default arrangement that loads up each time I open Ableton, mainly Reaktor, which is incredibly versatile, plus you can download other registered user's effects, drum machines, synths, samplers, you name it, from the Native Instruments website. There's also a MiniMoog plug-in which has banks of polyphonic and monophonic sounds, but obviously I always manipulate these presets to how I want them. EQ wise I have some great EMI plug-ins, modeled on the old 60's/70's hardware, likewise for the compression etc I use a plug-in modeled on the old Pultech units. I have a lot of different types of compressors, EQs, effects etc, but I try to stick to just a few if possible, as otherwise you can get a little lost in all the different possibilities and permutations.
As I mentioned earlier about the different pseudonyms you used, would you say each style of music had its own gear and techniques. Or have you used the same stuff pretty much for all your music?
How has the 'Nail' sound evolved after working as bent for so any years? The "Nail sound" isn't something I can hear too well, but people tell me it exists and I kind of get it when they try and explain. I learned a lot from Simon from working with him for so long, about things like compression and eq, stuff like that which I find integral these days, as I should really! In the past I didn't really think about that side of things, just lots of bass on the kick drum. Some tracks of mine were mastered from DAT recently that were recorded in 1997, the mastering engineer said his ears were fucked afterwards because of all the harsh frequencies that were going on!
Where do you stand on Digital and Analogue gear? Which, if any is best? and why?
Gonna totally sit on the fence here and say they both have their pros and cons, some more obvious, some more subtle. I have a decent mix of both in my studio, and will always maintain that balance as I believe it's healthy for my creativity.
Do you think it's important to finish a track quickly or take your time? Do you have a pre prepared library of parts saved to get you going or any other techniques which help you get things done ?
Lots and lots of unfinished tracks on my hard drive! But not as much as there used to be, so I'm either not spending enough time in there, or I'm actually taking my time with things for once! But sometimes tracks come together so quickly, it's good to commit them quickly so they don't lose that feeling. It's easy to fuck about with track too much these days, especially if you're working in the box and have lots of plug-ins to change and manipulate sounds, effects etc.
You're not shy on sampling old tracks, explain what you look for in a sample that makes you think – yes I can make something great from this? What DAW are you using to layer in those samples with rest of your tracks?
I use Ableton, and with the ability to scroll through and audition everything in your music folder in the side bar, a lot of the time I'm choosing stuff at random, although I know where to look, if that makes sense? That was how we went about sampling in Bent, so that's another thing I picked up I guess. Also the seamless editing facilities in Ableton, makes it easy to chop and splice samples very intricately and stick them back together in a different order to make new sounds and rhythms, loops etc Phil Weeks is clearly an avid fan of yours given that you now hold a firm place on the roster at his Robsoul label, how did meeting Phil come about, did he hunt you down, or were you looking for labels yourself? He kind of came to me I guess, he'd sent me a message on Facebook but it went to my "other messages" folder, but a friend of mine Cass had been in touch with him so eventually we made contact. I've been lucky as this time people are coming to me! Very strange.. life is very strange.
You're partial to doing a brilliant job on remixes too, do you like working on remixes as much as original material? Are you quite selective with which labels and styles of music you remix?
Well first of all, thanks! Remixes are fun to do, because you already have some great sounds to work with that the original artist decided on, then you can go to town with it, within reason of course. Some of my favorite tracks of my own recently have been remixes. Can't explain it further, but they always seem to sound different to my own tracks. Weird.
What can we expect to hear from Nail in the future, any album plans, live sets?
I have a new label called 89:GHOST which I'll be releasing stuff on, mainly my own material.. some old, some new, some unreleased. I'm currently working on an album for Shabby Doll which I'm getting a bit excited about, there's a few remixes in the pipeline for after the summer too. Hope to be DJing a lot more as the year goes on, plus there's been some preliminary rumblings about a Nail live show..
Massive thanks for your time again Neil.
No problemo!
Take a look at Nails soundcloud page here to listen to more of the mans work.