Marc Poppcke is one of the most prolific and talented producers in the Berlin house scene.
He has an incredibly unique sound and what he has put together here is nothing short of essential for people who are into melodic and tech house samples. As usual the artist series brings you a little bit more than a small artist pack, this thing is huge..
Marc's sound sits firmly in the after hours deep house area but it is unafraid of using some of the melodies and sounds of pre-trance/ early trance and techno from the 90′s. Incorporating the Melodic as well as the deep, you will find the blueprints for soaring riffs and hypnotizing synth work alongside raw and rhythmic beats all produced in such a way as to make them instantly usable within your own productions.
NDS-7 epitomizes the sound of Marc's label Crossfrontier Audio. He is one of the most talented producers around right now, and with this collection of tech house samples, we get not only a labour of love but a snapshot in time of one of the most forward thinking artists there is. As the club sound moves ever on-wards, this is a pack which keeps you on the bleeding edge of what's ripping up clubs right now.
Was

 £29.99

 Now 

£14.99
Purchase directly from us:
*You will receive your secure download link after purchase.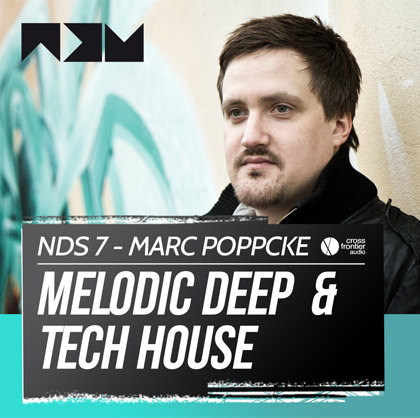 Guy Mantzur
"great pack of tools from a great producer, will use it for sure, thanks & good luck"
Oli Furness (Music Is Love)
"This pack is great, definitely useful in many different aspects for me and will be kept with all my other no dough samples in the folder called "TO USE"
Daniel Solar
"Lots of great sounds in there. I especially like the fx and music loops. Will use it for sure!"
Midland
"Over the past few years I have found these drums becoming the backbone of so much of what I do, well recorded, lovingly processed and of the utmost quality"
As you know we try to offer a little bit more in our packs, more choice and more options for the producer but not quantity over quality.
We  like to provide quality of choice whilst sticking to the high standards we hold ourselves to here at NDSamples.  By taking this more comprehensive look at what an artist's pack fundamentally is, we find you end up with a much more inspiring pack to work with, having more tech house samples to manipulate helps bring inspirational ideas together easier even if it takes a little more effort to put together.
Marc's characteristic production shines through in all his loops and shots, there is no filler here.  Working from his studio in Berlin Marc not only runs the Crossfrontier Audio label –  he is also a very highly sought after remixer, a lot of labels out there rely on him to bring that touch of class to their releases. This is what this pack is meant to represent, and archive that bring the essence of the sound he is passionate about to your DAW.
Marc's own Crossfrontier Audio label
New Review 7.5/10
No Dough Music, the quintessential platform for all things music production-related, delivers the second edition in their artist packs, which has been compiled by Berlin-based producer Marc Poppcke (known for a series of wild cuts on labels such as Freerange, bloop and Vivid amongst others). Centering heavy around melodic and deep standalone samples and a wide variety of pre-made loops, the pack has become a strong addition to the already quite expansive NDS product portfolio but first and foremost a rich resource for crafting raw, pumping but melodic club tuneage.
What's included
500-96000hz Professional Quality Wavs
320 – Loops covering bass, Drums, Music, Percussion and Tops
All loops tagged with tempo and key info
180 Single Shot drums & fx
Sampler files for Kontakt, Reason, NN-XT and Logics EXS24/list_item]